ABOUT MODEL PREPARE
As India's foremost choreographer is an artist par-excellence exuberates creativity,combines artistry with keen observation and humanism. She has redefined the ethos and vocabulary of choreography and has enhanced the art with ennoblement. Ramp Guru Sambita is all set to impart her knowledge of Modeling & Acting to the young Aspirants who are willing to fulfil their dreams in the field of Glamour and for this she proudly announces with the Best Modeling & Acting Institute MODEL PREPARE for those who Dream.

The Modelling & Acting Course at Model Prepares provides aspiring fashion models and actors a chance to train and become professionals. It opens up career opportunities in the exciting world of fashion. This workshop will train students in modules on Ramp Walking, Posing Techniques, Backstage Standards and Etiquette.

On completion of this programme, one can use these skills for fashion modelling, product modelling, runway modelling, editorial modelling, print modelling and even to enter the world of beauty pageants
Ramp walks Lessons and Runway Training:
Our practical runway classes will have lecture on walking like a professional model.
Learn the latest trends in runway/fashion parades.
Ramp walk lessons will cover choreographed routines, model turns and perfecting the model walk.
Learn from the experts! Our runway training sessions are taught by highly experienced professional Runway Director & Models
Modelling Tips and Industry Overview:
Individual direction on how to prepare for a career as a professional model.
Advice and direction regarding reputable modelling agencies, casting and promotional model agencies.
How to prepare portfolios and composite cards.
Do's and don'ts of modelling.
An insight into showroom and promotional modelling.
Knowledge required to get started in the modelling industry.
Learn all the latest and most useful modelling tips.
Learn how to move, pose and be photographed to ensure the best results.
Participate in a professional photographic session (an ideal start for your portfolio).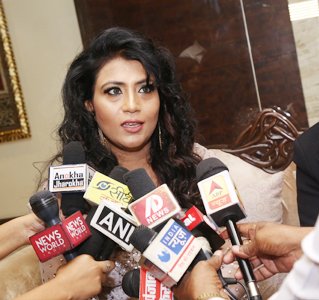 YOUR BENIFITS:
Ramp Walking
Acting Classes
Posing Technique
Dance, Yoga, Fitness Tips
Personality Development Classes
Backstage Etiquette
Understanding Choreography
Special Classes on Grooming
Guest Lecture by Celebrity Models.
Course Completion Certificate by the Celebrities/ Govt. Dignitaries.
Social Media Promotions of the Selected Students
Opportunity to Work in our upcoming projects.
Portfolio to every students Having 12 Finished Photographs
Our runway classes will finish with one's participation in the Final Event where every student will get an opportunity to show case his abilities to the best of his capabilities.